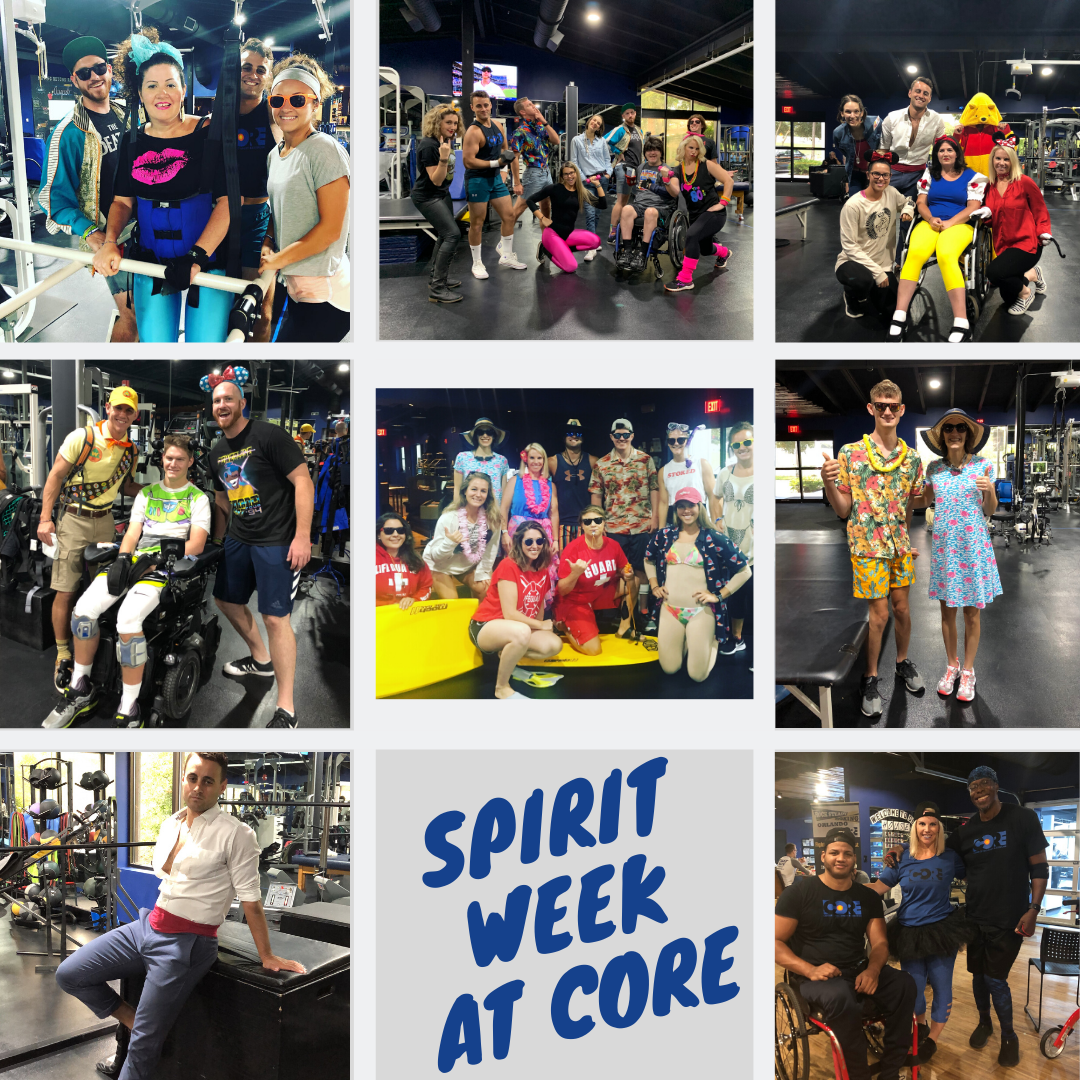 Spirit Week
This year CORE is celebrating 9 fantastic years of Moving Beyond Paralysis, and we're doing it in style again with Spirit Week (August 10-14)! Last year's costume contests were a hit, so we've decided to bring them back with new themes!
Monday – Pirate Day
Tuesday – Decades Day
Wednesday – Superheroes & Villains Day
Thursday – Pajama Day
Friday – CORE Spirit Day

Dress to impress and see if you can bring home the prize during Spirit Week 2020!
Saturday Appointments Available
If you've been interested in getting back in the gym but haven't made it back post-quarantine, Saturdays are the perfect time to come in! With only two trainers in the gym on Saturdays, there is plenty of opportunity to get your workout in while keeping a safe distance between you and any other clients. Call to book your appointment today!
New Service: Trail Training
Over the last few months we've all been cooped up inside and now we could use a little fresh air. Get outside and enjoy the summer sunshine with Trail Training at CORE on the Cross Seminole Trail! We'll take you out for a ride on one of our hand cycles with a CORE companion, who can assist you with set up and act as a workout buddy. Now through the end of August you can book a one hour Trail Training session for just $20 (regular price = $30). Don't miss out on this opportunity for a new adventure!
This summer has really flown by, and it's already time to say goodbye to the summer interns. The interns' last day will be August 8th, so be sure to say so long before they're gone!
CORE Beyond C.H.A.M.P.
Each month the CORE team nominates team members they feel deserve recognition for their hard work and dedication. This individual is someone who goes above and beyond, and we call them the CORE Beyond C.H.A.M.P. (Creative, Hard-working, Ambitious, Motivated, and Passionate). This month we'd like to acknowledge Neuro Exercise Specialist Riley, for receiving compliments from clients for great aqua training sessions and for taking on additional responsibilities in the gym. We are proud to have a team member like Riley. Keep up the great work!
Bioness Screening
Interested in getting your own Bioness device? Will, the Bioness clinical specialist for the Central Florida area, will be at CORE on Thursday, August 27th for screening appointments. If you would like to book an appointment with him you can contact him at William.Regan@bioness.com or 661-476-7051. Check out the link below for more information on Bioness.
FREE CORE Fit Trial
If you have been curious about CORE Fit classes, you can try one out for FREE! That's right, your first CORE Fit class is complimentary. Ask us for more details!
Upcoming Events & Important Dates
August 10th-14th: Spirit Week
August 27th: Bioness Screening
September 7th: Labor Day, CORE Closed